Get Lifetime Access to All String Premium Courses & Backing Tracks at a BIG Discount!
SFS Pentatonics - Pentatonics Everywhere!
SFS Pentatonics 2 - Navigating Chord Changes
SFS Modes - Modes Everywhere!
SFS Modes 2 - Horizontal Connections
Economy Picking Bootcamp
Barre Chord Workshop
SFS Colorful Triads
Modal Harmony Workshop
Drop 2 Workshop
Linear Freedom Improvisation Course
SFS Melodic Minor Modes
SFS Harmonic Minor Modes
BT Pack 1 - Modes
BT Pack 2 - Melodic Minor Modes
BT Pack 3 - Harmonic Minor Modes
BT Pack 4 - Blues
Perfect Pitch for Guitarists - BETA
PLUS: You will be automatically enrolled in ALL future String Partner Subscription courses and updates.
💡 Included: 7 daily orientation videos to help you get started, and find your way through all the courses 🎸.
Total price of courses (when purchased separately): $1154
Your Instructor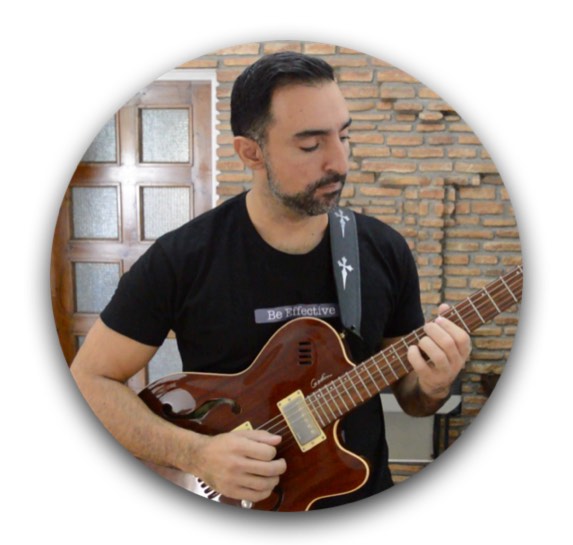 I am a music geek fascinated with learning new things, and improving my guitar skills. But I'm also very passionate about helping others do the same!
After studying in the Greek National Conservatory, and Berklee College of Music, I began performing and teaching privately in 2001.
Since then, I have been developing new methods for effective musical training. My mission with String Systems is to share them with the world :-)

Frequently Asked Questions
When do these courses start and finish?
These are completely self-paced online courses. You get lifetime access on all your devices, and you decide when you start, when you finish, and how fast you want to go.
How long do I have access to the courses?
After enrolling, you get unlimited access to all courses (including future updates) for as long as you like - across any and all devices you own.
What if I am unhappy with my purchase?
You won't be 😀. But in the unlikely event that you are unsatisfied with your purchase, the String MegaPack comes with a 30-day money back guarantee. Just contact me in the first 30 days and I will give you a full refund, no questions asked 👍.
Do you charge VAT or other taxes?
Our pricing is tax-inclusive. This means that no tax will be added at checkout. Any tax obligations will be calculated by our accounting system and remitted by String Systems to your local tax authorities, at no extra cost for you.
I have another question...